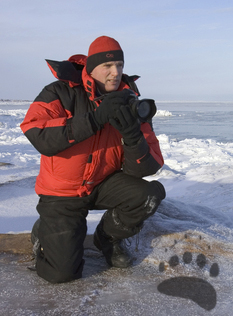 Personal History . Education . Publications . Lectures and Cinematography . Photographic Exhibitions . Film Projects . Projects in Process .
Congratulations! To Matthias for winning gold at this year's Independent Book Publisher Awards with his newest book, Inside Passage.
Matthias Breiter is an internationally renowned and highly respected author, cinematographer and wildlife photographer. He is considered one of the greatest authorities on bears. Holding an advanced degree in biology, he is presently completing his doctorate on brown bears in Alaska. The author of thirteen books that have been translated into eight languages, he has appeared as a guest lecturer at the Smithsonian Institution. Matthias Breiter's award-winning nature photographs have appeared in National Geographic, GEO, BBC Wildlife, Terre Sauvage and numerous other publications worldwide.
Matthias was born in Heidelberg, Germany in 1964. He had early travels to China (his father was exchange professor in Shanghai in 1981/1982 and Beijing 1984-1989). After receiving his graduate degree, extended stays in Alaska (1990/1991) and Australia (Northern Territory 1992/1993, he traveled all over Australia in late 1991 and early 1992). These extended stays resulted in two books on request of the respective National Park Services. Matthias Breiter has lived and worked permanently in Alaska and Canada since 1994. Since 1994 he has written several books on the natural wonders of Alaska, Canada and Australia which have been translated into 7 languages. Reviewers have declared his books works of arts and regarded them as the best-written nature books on the market both in language and content. He has also been a contributor to numerous other book projects.
Review excerpt for Bears – A Year in the Life
Author-photographer Breiter offers a thoughtful look at three species of bears by following their lives through each month of the year. … Breiter works a tremendous amount of natural history into this calendar approach, and his photo illustrations are both apt and beautiful. Nancy Bent, American Library Association.
Matthias Breiter continues to conduct research and is presently finishing his Ph.D. thesis on aggression in bears. He is also deeply involved with conservation efforts involving the American and Canadian Arctic and Subarctic. He is a founding member and fellow of the International League of Conservation Photographers (ILCP). Married with three children, Matthias Breiter is based in central Canada and Alaska.
1980-1985: Bachelor of Science – University of Heidelberg
1985-1986: Graduate Studies in Zoology – University of Massachusetts
1989: Graduate Degree (Masters, Biology) – University of Heidelberg
2001-Present: Ph.D. Thesis (Aggression in Bears) – University of Heidelberg
1991: "Führer zum Denali National Park & Preserve". Alaska Natural History Association, Anchorage, AK 1991, 144 p.,
ISBN 0-930931-09-2. (Commissioned by the US National Park Service)
1996: "Kakadu and the Top End". Kangaroo Press, Kenthurst NSW, 180 p.
ISBN 0-86417-647-3. (Commissioned by the Australian National Park Service)
1996-present: Full articles and photos in National Geographic, Nature Photographer, Canadian Geographic, Animan, Terre Sauvage, GEO
and numerous other scientific and photographic magazines.
1997: "Wild Australia". Mondo-Verlag AG, Vevey. 108p.
ISBN 2-88 168-808-X (Published in German and French.)
1997: "Alaska". C.J.Bucher Verlag, Munchen, 216 p.
ISBN 3-7658-1155-6.
1999: "Natural history guide to Western Canada and Alaska". Franckh-Kosmos Verlags-GmbH & Co., Stuttgart.
ISBN 3-440-07671-7 (Published in German and translated to 7 other languages)
1999: "The Bears of Katmai". Frederking & Thaler Verlag, Munchen. 156 p.
ISBN 978-0-9782432-0-3 (Published in German and English)
2006: "Bears – A year in the Life". Firefly Books, Ltd., Richmond Hill, ON, 176 p.
ISBN 1-55407-077-5
2007: "Wild Alaska". BreiterView Publishing, Kenora, ON, 256 p.
ISBN 978-0-9782432-1-0.
2009: "Polar Bears and Global Warming" in Biologie in unserer Zeit
2010: "Inside Passage", BreiterView Publishing, Kenora, ON, 256 p.
ISBN 978-0-9782432-3-4.
2000- present:
Matthias has been a frequent lecturer at zoos and also the Smithsonian Institution about bear biology and bear conservation. He has worked as a cinematographer with the National Geographic Society, Discovery Channel and several other TV producers on documentaries both on polar bears and brown bears.
Smithsonian Museum of Natural History in Washington DC Courchevel (France) in the prestigious exhibition "Les Sommets de l'Image". His work can be seen in the Winnipeg Art Gallery in Winnipeg, MB. Solo exhibitions in Heidelberg (2009) and Walldorf (2000, 2007), Germany.
Polar Bears and Global warming (2009)
Books: Children's Books on Polar Bears and Brown Bears (2011), coffee table book on Polar Bears (2011), the North West Passage (2013). Film project on Wildlife Conservation and large predators (to be filmed in 2011 and 2012)