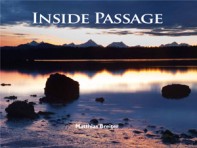 Inside Passage is an intimate portrait of the world-famous sea route in along Alaska's coast. Award-winning photographer, author and biologist, Matthias Breiter, has traveled the waters along North America's northwest coast aboard ferries, fishing vessels, tug boats, pleasure craft, and kayaks for twenty years. Through stunning images and inspirational, fact-filled text, this book celebrates one of the most scenic and biologically-rich regions on earth. This book placed gold at the 2011 Independent Publisher Book Awards. Matthias Breiter's stunning book explores the nooks and crannies of this natural wonder with photos and stories that will take your breath away.
The pages of this book were printed on chlorine free paper made with 10% post-consumer waste, saving 6 fully grown trees, 2,677 gallons of water, 163 pounds of solid waste and 556 pounds of greenhouse gases. Printed in Canada.
(Stunning Photography - September 13, 2011 By Dr. Bojan Tunguz - Indiana, USA) "Matthias Breiter's book "Inside Passage" is a visually stunning coffee-table book that goes well beyond what one can expect from this genre. The photographs are incredibly crisp and beautiful and they do the justice to this astonishing area. Breiter also provides a lot of useful information about the Inside Passage, especially when it comes to the biodiversity of this region. The writing is inspiring and easy to read, with a lot of personal insights. The book's landscape format is particularly suitable for, well, pictures of landscapes. Some of the inside spreads are among the most beautiful ones I have ever seen. This is a great book about a remarkable region. It will inspire wanderlust in all true nature lovers. Short of setting out on a trip to visit the Inside Passage though, this book is the closest that one can get to appreciating its otherworldly beauty."